May 3, 2019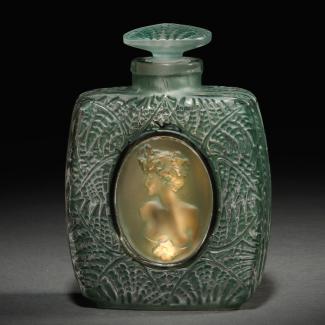 On the third of May 2019, in Itasca, Illinois, in the smallest Perfume Bottles Auction in 11 years, the firm offered 180 lots, realizing just above a half million dollars, making it the best per-item result in its history. Perfume bottles and vanity items from several notable estates, attracted more than 300 bidders into the sale room, competing against absentee and phone activity, as well as aggressive Internet bidders.
Highlighting the sale was a 1912 Rene Lalique Fougeres perfume bottle selling for $33,600 leaving its $6,000 high estimate far behind. Lalique's first complete perfume presentation, the 1909 Cyclamen for Coty, doubled its high estimate at $20,400. Rounding out the top three lots was a rare c1918 D'Orsay Bonjour yellow glass fish-form bottle in silk box, selling to an excited phone bidder at $30,000.
Strong sales reflected the breadth of bottle interests and tastes. The Asian theme did well with a 1920s miniature Japanese lacquer cabinet holding Vantine's vanity wares and selling for $7,200; and a 1920s Russian presentation Sada-Yacco inspired by the renowned Japanese actress, selling far above it's $500-600 estimate at $7,800. Five phone lines sizzled for the 1927 Egyptian sarcophagus-form bottle Nuit Divine for Edouardo which had been estimated at $5,000-8,000 — after heated competition, a bidder in the room prevailed, taking it for $13,200.
Featured on the auction's catalog cover, the 1940s Legrain Old Paris figural bottle in its dramatic printed silk diorama box illustrating the 1860s Paris Opera exceeded expectations with a result of $13,200. Famed artist Fernand Leger designed the sinuous 1954 Cantilene bottle for Revillon, inspired by observing ripples of stones dropped in a pond, brought $11,400. The jarring 1920s Dada bottle design, motivated by the short lived anti-art movement, captured someone's artistic eye at $14,400. The 1954 LaCloche bell-shaped bottle from the French Jewelry firm of the same name broke its high estimate of $600 ringing in at $6,000.
Low reserves and sensible estimates encouraged competition, while rarity and excellent condition drove higher results. A large 1920 Terre de Retz lacquered paper mache powder box depicting a pajama-clad flapper on a polar bear rug realized $4,500. Topping a small group of Czechoslovakian bottles was a 1926 Heinrich Hoffmann Nude-Dauber bottle with elaborate jeweling going to a happy bidder in the room for $12,000. 
The Perfume Bottles Auction attracts a devoted following of collectors from around the world and continues to be the longest running auction devoted to perfume bottles and vanity items. It is the official auction of the annual IPBA convention and a portion of the proceeds benefits the IPBA. Prices noted are shown with 20% buyer's premium. Results for this and past auctions can be found online at PerfumeBottlesAuction.com
Consignments are being considered for the 2020 auction. Contact Ken Leach if you wish to include your items in this exclusive event: phone 917-881-8747 or email: kenleach47@aol.com