November 12, 2019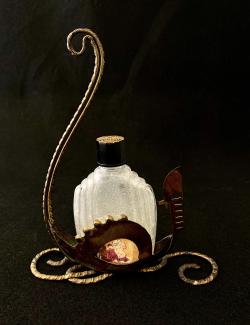 Venice, the city of canals and romantic gondola rides in the Veneto region, northeastern Italy.
Situated on a group of 118 small islands that are separated by canals and linked by over 400 bridges. Venice is known for its' beautiful canals, iconic gondolas and amazing glass manufacturing houses. And it is known for being one of the most romantic places on earth. 
Try to imagine what a perfume presentation that combined these wonderful attributes might look like. Well, we found something… here is Acqua Dei Rii Di Venezia (water of the canals of Venice). Circa 1925. Discovered at a small antique shop in Venice. 
The holder is made of thin wrought iron in the shape of a gondola. Resting in the base of the gondola is a glass bottle. There are labels on both sides of the bottle which are placed perfectly.  You see two lovers kissing as they sit in the gondola. It is a very risqué image of the woman showing her breast.  The cap is black Bakelite and on the top it has a paper label that reads Acqua Dei Rii Di Venezia.  The wrought iron is embossed with the artist's name, Bellotto.  
Umberto Bellotto (1882-1940), born in Venice, was a craftsman who worked with Italian wrought iron and glass. He was one of the first to combine millenary Venetian art with wrought iron. Bellotto, the son of a blacksmith, began his career in ironworks at the age of 19. Working in collaboration with decorator Cesare Laurent, in 1910 they invented and patented a technique for "iron and glass".  
Bellotto collaborated with various glass artists (including the brothers Toso of Murano glassworks, Barovier and Venini. In his career, Bellotto had numerous participations in the Venice Biennale in 1914, 1920, 1922, 1924 respectively. It was around 1925 that Bellotto focused exclusively on glass. He was a leading artist at the Monza Biennales from 1923 to 1927, his work characterized by an interpretation of art deco and Jugendstil models. Bellotto's reliance on geometric form and on dark contrasts would prove highly influential in the production of Murano glass in the following years.
This perfume bottle presentation may have come from one of the exhibitions. The glass bottle has a geometric ribbed deco design. When combining glass and wrought iron, Bellotto always used iron as the supporting structure and predominant element, while the glass played a subordinate role, often partially covered by the ironwork. 
The English translation of Acqua Dei Rii De Venezia is "water of the canals of Venice". Since the water in the canals has a putrid smell at times, it is possible this perfume name and presentation was a sarcastic representation of the "romantic" canals of Venice.  
The Murano Museum of Glass refers to Bellotto as the "Magician of wrought iron". Contemporary documents refer to Bellotto's workshop in Venice as the "wizard's workshop" because of his skill in the medium of wrought iron. Bellotto stopped making glassworks in 1928, when he accepted a commission from the ministry of public works in Rome to decorate prestigious buildings.
We have not found any other perfume bottle presentations designed by Umberto Bellotto. If you are aware of any, please contact us and we would be happy to share the information in our next post.  
Resources: Cambi and Christie's Auctions, Don Mangus blog, Wikipedia, Murano Museum of Glass. 
Aqua dei rii de Venezia measures: Gondola measures 5 ½" tall x 4 ¾" wide x 1-1/4" deep (4 cm tall x 12 cm wide x 3 cm deep).  Bottle measures 3 ¼" tall x 2" wide x ¾" deep (8.3 cm tall x 5 cm wide x 2 cm deep).