June 30, 2021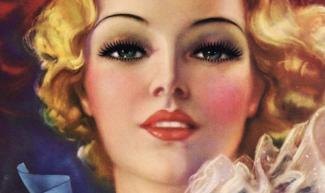 While cosmetics and fragrance evolved since ancient times, the evolution of beauty products on display at Perfume Passage, allows us to preserve this history through the stories of these vintage items and their manufacturers.
In the 18th century, many upper class women had dressing cases that included their homemade cosmetics, dyes, false hair and lotions. In the 19th century, the use of cosmetics declined in the US. Soaps were used as well as homemade hand lotions.
Many men thought cosmetics were effeminate and stopped powdering their wigs and wearing patches. Hair products were still acceptable as the wealthy liberally used macassar oil and even animal grease.
In the 1860s, it was discovered that zinc oxide provided an excellent base for face powder. It was safe, held its color and was inexpensive. Between 1880 and 1900, the mark of a true lady was her natural untouched appearance. Society believed that only actresses and prostitutes wore makeup.  While our obsession with a youthful appearance began centuries ago, focusing on how the beauty industry developed into the one we recognize today, begins with the women who made it happen at the turn of the century and early 1900s.  Even though public use of cosmetics was still frowned upon in the late 1880s and early 1900s, the sight of women using makeup in public was becoming more common.
More than ever before, women – especially young women – wanted to have their essential cosmetics available any time they needed to use them. This demand coincided with the increasing manufacture of ladies compacts that included face powder, rouge and lipsticks.  The changing times allowed courageous women to establish businesses that provided a variety of beauty products, many were homemade.
To read about all of the entrepreneurial women that set forth to revolutionize  the beauty industry as we know it today, read the entire newsletter Beauty Is Only Skin Deep.