July 22, 2019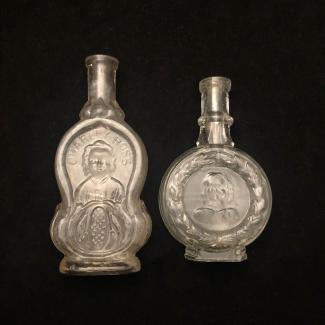 Charley Ross, age four, and his brother Walter, age five, were kidnapped on July 1, 1874, from the front yard of their family's home in the Germantown section of Philadelphia, Pennsylvania. A buggy pulled up and two men offered the boys candy and fireworks if they would take a ride with them. The boys agreed and they all proceeded through Philadelphia to a store where Walter was directed to buy fireworks inside with 25 cents, which the men gave to him. Walter did so, but the carriage left without him.
Attempts were made to collect a ransom by placing ads in a newspaper, but Charley Ross was never seen again, although in later years several boys and then young men claimed to be Charley but none were proven to be him.
This 5" tall bottle was made to help find Charley Ross. The kidnappers were caught, but Charley Ross was still not found. When all leads dried-up, someone thought of putting Charley's image and name on a bottle, to help spread the word of him still being missing.  
The bottle has an embossed bust image of Charley on the front and above the image reads: CHARLEY ROSS. The bottle is a fancy figural corset scroll shape. It is believed that these bottles were used for cologne or perfume, with the idea being that it would sit on someone's dresser for an extended time period, and it would not simply be quickly consumed and tossed like any ordinary medicine or consumable product. 
There were several variants of the Charley Ross bottles. We have not discovered any attribution as to the makers of the bottles. However, some believe that they came from one of the several Philadelphia glass houses.
The kidnapping made national headlines, and even inspired musicians to create a song called 'Bring Back our Darling" written for Charley's bereaved parents. 
This was the first publicized time a child had been kidnapped in the United States and held for ransom, and also the first time a missing child had been put on a bottle.  Perhaps the idea of putting missing children on a milk cartons in much later years, came from the Charley Ross bottle. 
Later, a book about Charley Ross was published in 1967, written by Norman Zierold. 
Today, Charley Ross bottles from the mid to late 1870's are very difficult to find. But once in a while "diggers" will discover them in their searches as they go through old trash dumps and privy pits.    
A fascinating bottle of historical importance that marks a sad event in American history. The admonition "don't take candy from strangers" is said to have originated from Charley Ross' kidnapping.
____________________
Harold Schechter is the author of historical true crime books and editor of an anthology of American true crime writing published by the Library of America. His book The Mad Sculptor was a 2015 Edgar nominee. His most recent book is Hell's Princess: The Mystery of Belle Gunness, Butcher of Men.