December 10, 2022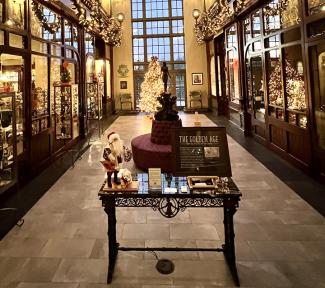 The holiday season is celebrated in many different ways, and it's all about family and friends. And of course, perfumes and vanity items! 
We didn't realize the variety of holiday themed items we've collected over the years until we started to unpack and organize them for our seasonal displays. And we have turned the Passageway into a holiday passageway, with new showcases and a larger tree decorated with mini perfumes and compacts and much more.
Like all collectibles, holiday themed perfumes and vanity items can also fit into specific collecting categories. Bottles, compacts, powders and ephemera are just a few categories that are included in the Perfume Passage holiday collection that are on display throughout the galleries.
Arthur Philippi produced a variety of drugstore perfumes in the 1940s. They were located in New York and many of their perfume presentations had Christmas motifs. A fun Philippi perfume and corsage, perfect for Christmas or even a holiday wedding, came with a tiny bottle attached in the center as shown here. 
To read more about the different Holiday Special Presentation from the beauty world, read our newsletter at this link:  Holiday Collections.