October 18, 2020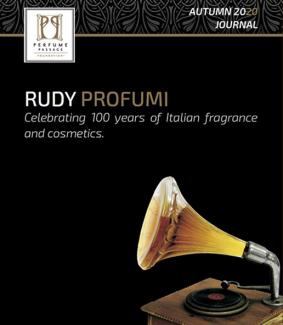 Autumn 2020
Welcome to the first publication of Perfume Passage Journal.  The Mission of the Perfume Passage Foundation is to preserve the history, beauty and artistry of perfume bottles, compacts, ephemera and related vanity items.  Through education, awareness and access to the collection, library and archives, our objective is to inspire art lovers, collectors, archivists and curators to keep this history alive.   
In each edition of Perfume Passage Journal, you will find articles that document the known history of a specific subject available in our collection.   Each journal will serve as a digital archive on a topic or theme, and when new information or images are discovered, they will be added to the publication archives.
For our first publication, we chose a fascinating Italian company whose figural presentations captured the social, economic and artistic trends of an era before and after World War II.  We are excited to share the history of Rudy Profumi in collaboration with the Museo del Profumo in Milan.   A very special thanks to Giorgio Dalla Villa and Daniela Candio for their research and support.  And a big thanks to Luca Liguori for his contributions translating information from Italian to English, as well the magazine layout.
Most of the perfume and vanity artifacts pictured in this journal are from the Perfume Passage Foundation collection unless otherwise noted.  We hope you enjoy this inaugural magazine and thank you for your interest.
To read the Journal in its entirety follow the link:  Perfume Passage Journal