January 10, 2023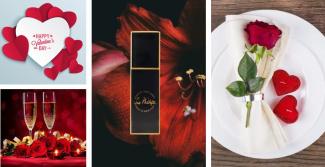 Perfume Passage Foundation is excited to present a multi-scent-sory "Sip, Sniff & Savor,™ " dinner!
On February 14, 2023 you will discover the magic and mystery of exquisite ingredients used in fragrances, food, and wines as you indulge in these pairings, and celebrate the senses at Perfume Passage.  Presented by international fragrance expert Sue Phillips, of Sue Phillips Fragrance, this unique dining experience will take your sense of scents to new heights.
According to Sue, "our sense of smell is the most powerful of all the senses (after sight), yet the most ignored and forgotten. Smell and taste are totally intertwined and without our olfactory sense, we lose our sense of taste and one of life's extraordinary pleasures." 
This immersive and unique multi-scentsory event will start with mouth-watering hors d'oeuvres  and sparkling champagne while touring the galleries. A four-course meal will follow, along with a "scent journey" by Sue. Paired with fabulous wines, this scentsory dinner will be a delight -- educational, scentertaining, creative, interactive, and FUN! Guests will leave with a custom fragrance created by Sue, as a memento of the evening's scentsational experience!
Established in 2018, Perfume Passage Foundation is a not-for-profit 501c3 that preserves the history, artistry and beauty of perfume bottles, ephemera, and related vanity items. Through education and outreach efforts, the Perfume Passage collections and library inspire collectors, art lovers and archivists to keep this rich history alive.
The Perfume Passage galleries allow visitors to tour the world through an international collection of perfume bottles, ladies compacts and vanity items, dating as far back as 2500 BC.
The Passageway elaborately themed window displays of well-known US and French perfume houses allow us to travel back in time to the Golden Age of perfume.

A fully restored interior of a 19th century American drugstore and soda fountain provides an opportunity to explore the science of scent and making of perfumes through engaging interactive experiences.

Reliving the 1925 Paris International Exhibition of Modern Decorative and Industrial Arts in the Deco gallery is inspired by the Expo's iconic Rene Lalique fountains. With a spotlight on perfume bottle design in the 20th century, the room exudes the spirit of the Art Deco movement.

The Vault gallery highlights the treasures of the Perfume Passage collection and items include a cologne bottle from Napoleon, rare vinaigrette, unique chatelaines and Lalique glass.
For further information or to purchase tickets for the dinner, please visit our direct link to Midwinter Nights Fragrant Soiree.  And for additional information email us or call us at 224-634-7722.
Tuesday February 14, 2023  5:30pm – 9:30pm
Multi-Sensory Scent Dinner starts promptly at 6:30pm
Perfume Passage Foundation at Sanfilippo Estate
789 Plum Tree Rd., Barrington Hills, IL 60010
A portion of the event's proceeds (20%) will benefit the Alzheimer's Association.
Who is Sue Phillips?
Sue Phillips is originally from South Africa and is based in New York City where her global atelier for fragrance creation is located in the upper east side – Sue Phillips House of Fragrance.
She created the "Tiffany" perfume for Tiffany & Co., Society by Burberry, Burberry for Men, & many others. After years as an executive team member at Tiffany & Co., Elizabeth Arden, Lancôme, Lancaster, and Avon, she is now recognized as the industry's official trailblazer who also assists Covid victims in the recovery of their lost sense of smell.
Throughout her career Sue's passion, ability and ingenuity have resulted in her being at the forefront of innovation and delivering quality products and experiences to her clients.
Sue believes that when combined with the sense of smell, a scent has the power to evoke fond memories and a range of feelings that can uplift people's spirits, deepen romance, elevate moods, and create a general sense of happiness. "Fragrances help make life complete as they emphasize the value of scent, a frequently undervalued human sense that, along with sight and sound, gives a priceless vibrancy to the tapestry of life."
Her 2021 book, The Power of Perfume - How to Choose It, Wear It and Enjoy It, is an homage to the power of fragrance and how it triggers moods, memories and emotions. The book includes compelling facts from articles she has written, interviews she has given, and the many intriguing questions from her clients who want to know as much as possible about the enthralling world of fragrance.
"My mission is to create memorable fragrance experiences and products.... drop by drop."
- Sue Phillips