July 27, 2022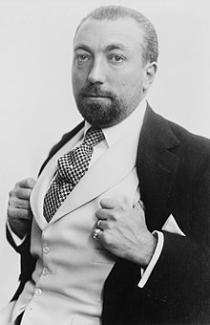 Paul Poiret (1879-1944) is considered the first fashion designer to introduce his own perfumes. However, unlike Coco Chanel whose Chanel No. 5 first appeared in 1921, ten years after Poiret had begun selling his "designer perfume," Poiret never included his name on his perfumes or on the company. From the start, he believed that perfume presentations involved five features: name, bottle, label, box and additional ornamentation. 
In 1911 Poiret's fashion house expanded to include perfumes and interior design. Poiret's fashion house became one of the most well known of its time, especially after he launched Parfums de Rosine and Ateliers de Martine, named after his daughters Rosine and Martine. He soon became known as Le Magnifique.
The early bottles were hand painted by Martine for Rosine.  
Les Ateliers de Martine trained girls in the decorative arts. Their training included sketching, weaving and decorating ceramics and glass. The girls were introduced to modern art and artists, and also helped create some of the bottles and packaging for Parfums de Rosine.
Poiret also established his own packaging workshop, called Ateliers Colin, named after his third child. Cosmetic packaging became a complementary aspect of his decorating and perfume companies.
Over the years Poiret's Rosine company created more than 40 different fragrances with evocative, exotic names like Arlequinade, Le Balcon, Borgia, Aladin, Nuit de Chine, Toute la Foret, Sa Chambre, Avenue du Bois, Fruit Defendu, Coupe d'Or and Maharadjah to name a few.
To learn more about Paul Poiret and Parfums de Rosine read our July 2022 PassageWAY newsletter.