March 15, 2020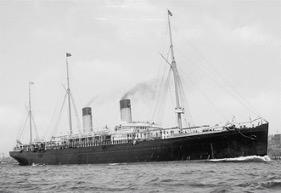 March is a travel month for many! Students have a week-long vacation from school. Parents are ready to take a trip to a sunny destination to get away from the gloomy cold weather. And people are often ready for a break after a busy start to a new year. And although now is not a good time to take a cruise, we did want to celebrate March by climbing aboard an ocean liner, a popular travel adventure.  
The Teutonic was internationally respected for its design and is considered the first modern liner because of modifications for passenger accommodation. She was 582 feet long, traveled with speeds up to 20.5 knots, and had accommodations for 1,498 passengers. The ship held 300 first class passengers in spacious cabins situated on the uppermost three decks, 190 second class passengers in comfortable rooms on the second highest deck, and 1,000 third class passengers on the two lowest decks. 
In 1921, after many years of passenger and military service, the Teutonic was retired and scrapped at Emden, Germany. Souvenir gifts were sold by the White Star Line for passengers and included spoons, ashtrays, dishes, and yes, perfume bottles!
Provenance: This perfume bottle comes from the collection of nautical historian and author, Mark Warren. Mr. Warren searched the world for the finest examples of items for his collection.
Rudy "Agrement" – Milan, Italy 1950's
Imagine yourself the captain of a cruise ship guiding the boat through rough waters.  Be sure you hold firm to the ship's steering wheel.  Most boaters commonly call it the helm.  You are in luck captain with this perfume presentation from Rudy Profumi of Milan, Italy.  It is in the shape of a ship's steering wheel.  
The spokes of the steering wheel are made of wood and the center is glass.   The perfume bottle has a plastic cap which is turned upside down and fits into a porcelain base shaped like ocean waves.   
If storms approach and you lose your sense of direction, don't panic!  This perfume presentation comes with a compass on the other side of the steering wheel to help guide you.